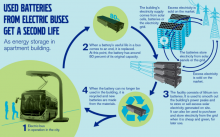 The three Lighthouse cities of IRIS, Utrecht, Nice and Gothenburg aim at making more efficient use of energy as part of their transition in becoming smart and sustainable cities. Stationary electricity storage solutions are a core part of this transition providing the potential for grid stability and resilience as well as flexibility services, peak shaving and peak shifting of electricity demand; thus, enabling higher levels of renewable energy integration and self-consumption.
The IRIS factsheet on Battery Energy Storage Systems (BESS) presents the experiences from the project's Lighthouse Cities Utrecht, Nice and Gothenburg that installed stationary electricity storage at district and building level. New Lithium-Ion batteries and 2nd life batteries are used in buildings in Nice and Gothenburg, as well as in the Kanaleneiland-Zuid district in Utrecht.
Download high resolution version (for printing).
04 Dec 2020