The overall concept of IRIS is the Transition Strategy comprising five (5) Tracks that together provide a universal yet versatile framework to address both common and district specific challenges. Within these five tracks, IRIS envisions to demonstrate a set of integrated solutions built on top of both mature and innovative technologies. The integrated solutions are defined on the basis of a common-shared know-how interchange among the lighthouse and followers cities, and planning of replication from the early beginning of the project.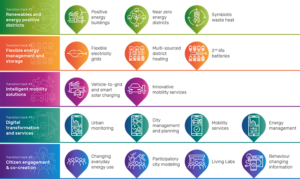 IRIS Transition Track #1: Renewable and energy positive districts
Integrating:
high share of locally produced and consumed renewable energy at district level
energy savings at building level reducing the citizens' energy bills
energy savings at district level

IRIS Transition Track #2: Flexible energy management and storage
Integrating smart energy management and renewable energy storage for:
maximum profits of renewables power/heat/gas
maximum self-consumption reducing grid stress and curtailment
unlocking the financial value of grid flexibility
IRIS Transition Track #3: Intelligent mobility solutions
Integrating electric vehicles and e-cars sharing systems in the urban mobility system offering:
local zero-emission mobility
lower household mobility costs
smart energy storage in V2G car batteries
IRIS Transition Track #4: Digital Transformation And Services
Cutting edge information technology and data framework enabling:
• Urban monitoring
• City management and planning
• Mobility services
• Energy management
The above mentioned solutions maximizing cost-effectiveness of the integrated infrastructure
Next, the City Innovation Platform with open, standards based application program interfaces (APIs) provides meaningful data and information services for households, municipality and other stakeholders, allowing for a Data Market with new business models.
IRIS Transition Track #5: Citizen Engagement and Co-creation
Design and demonstration of feedback mechanisms and inclusive services for citizens to achieve that they are intrinsically motivated to:
save energy
shift their energy consumption to periods with redundant renewables
use electric vehicles
change the vehicle ownership culture towards a use or common mobility assets culture
OVERVIEW OF THE IRIS INTEGRATED SOLUTIONS 
The below figure of IRIS illustrates the integration of the various elements (both very near-to-market and innovative), composing all IRIS solutions, as foreseen to be demonstrated and further replicated among the participating cities and beyond them. Energy elements (e.g. DC smart lamping, waste heat generation, near zero and positive energy buildings) along with storage solutions (deep boreholes, PCM, 2nd life batteries) for increasing grid flexibility and promotion of RES, integrated with mobility aspects (e.g. solar powered V2G) in a district level will in the very near future allow the EU citizens to be autarchies, without experiencing any grid stress problems. Through the supervision of solutions by the developed open-access City Innovation Platform citizens will be healthier and bi-directionally engaged with their cities. In that aspect, IRIS will demonstrate the integrated, intrinsically motivated by their citizens (through a list of services), operation of all these individual key-elements at the demonstration districts of the three LHs.