The demonstration of 16 already confirmed proof-of-concept IRIS Solutions (IS) followed and supported by two at least business models for the majority (85%) of them in Transition Tracks #1 – #4, are expected to lead to bankable solutions which a high expected rate of replication, not only to the project follower cities but to a EU (or global) level.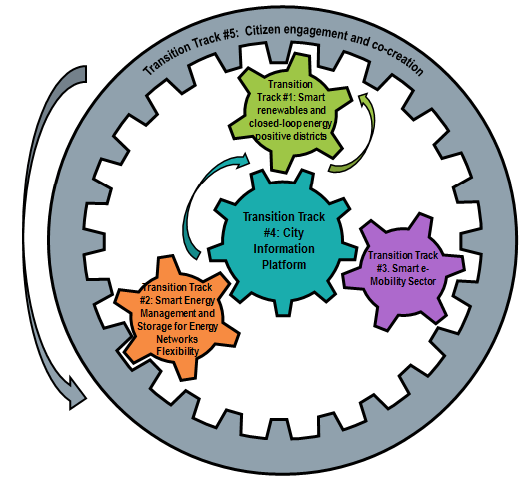 How Transition Tracks #1, #2 and #3 interact:
To accelerate the urban transition in the new era of emerging smart technologies on a city level, integration is the key factor:
Integrated deployment of solutions:
for energy efficiency increase,
increased share of renewables supported by storage solutions
new mobility schemes and services
On top of these, the proposed solution of solar power V2G solution for mobility acts as the linking pin for Transition Tracks #1, #2 and #3, further fostering the integration of green energy flexible networks in the mobility sector. These three Transition Tracks contribute to more comfortable living and working conditions for citizens, while any available excess of energy can mainly be consumed for addressing poor energy neighbourhoods of low incomes, low quality of life and lower energy bills for the near-future EU cities.
Role and structure of Transition Track #4: the IRIS City Innovation Platform
DEFINITION: "Open data portals, data warehouses, brokers, sensor networks, BI-tools and storage facilities to facilitate the collection, processing and visualisation of data and the provisioning of services. These systems support solutions like waste management, traffic flows and public lighting. The City Innovation Platform builds on these results and connects the dots between the different solutions by creating a common architecture and usage of standards, data models and governance practices."
BENEFITS:
openness
data protection
rich energy-data economy and replicability
fostering the innovation in energy services among the participating cities
interoperability and replicability of the demonstrated solutions in each city
One of the CIP is the City Data Market, allowing exchange and exploitation of any data based on appropriate/flexible licenses and pricing models and access rights. The City Data Market manages the exchange of any open, linked and big reliable, high quality data for the development of the integrated solutions as mentioned in WP2 and for new applications, services and business models based on generic API´s. The City Data Market also offers intuitive and user friendly developer and API-tools. The core of the CIP consists of a Data Management Framework, Security and Privacy, and the Platform Management tools. These components support the secure collection, processing and storage of data and the management and monitoring of services, devices and access.
The CIP is supported by a Data Governance Plan (DGP) to guarantee the right, secure and sustainable use of data. The DGP is crucial for building trust and participation among all stakeholders. It contains agreements and governance policies, allowing new services to be developed and allowing real time KPI monitoring and benchmarking of smart energy and mobility performances.
The ultimate goal of CIP is to harmonize existing, proprietary infrastructures, because that is a prerequisite for standardization.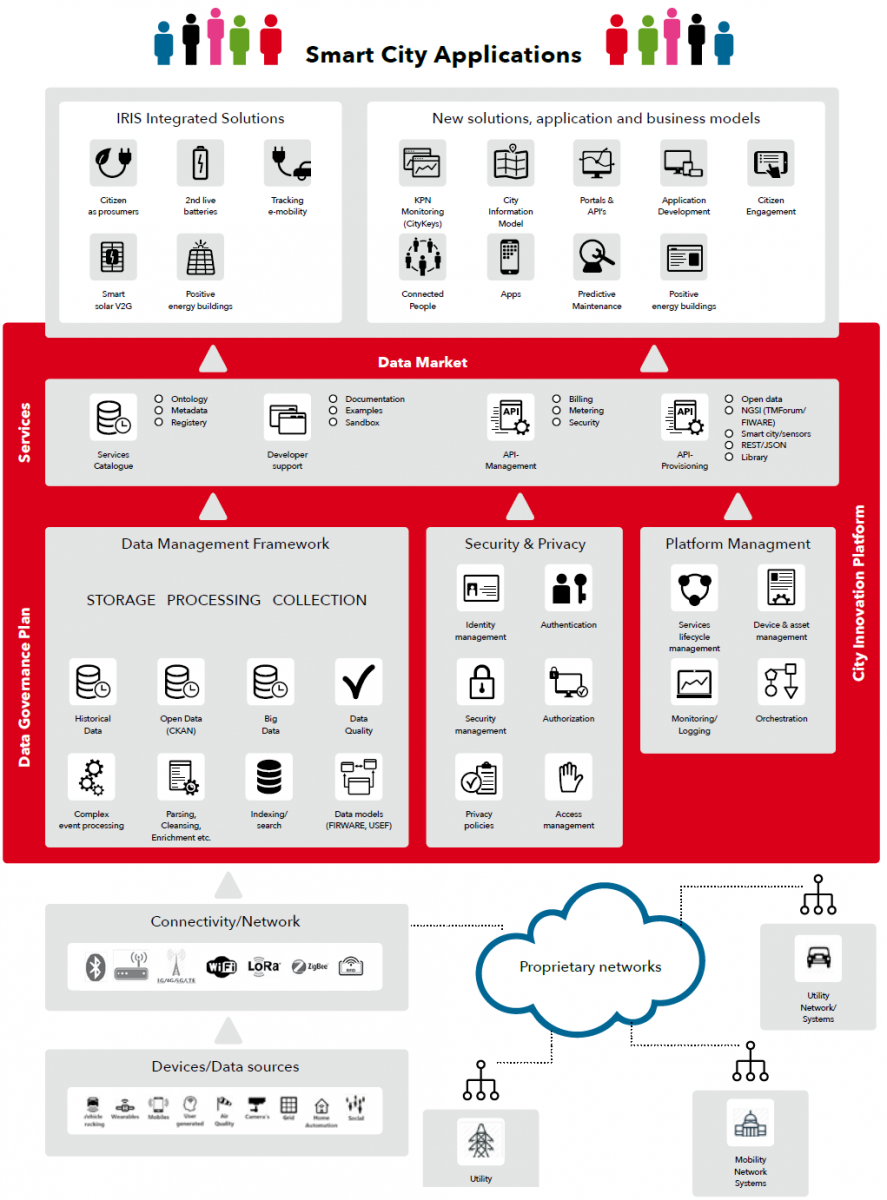 Our ambition is to provide a CIP that makes the development of new, integrated solutions a breeze and allows for greater concentration of resources in value-added applications by facilitating the communication, flow of data, and the management of devices and by linking machines, devices, applications and people to the CIP.
Why citizen engagement and co-creation are needed (Track #5)
Notwithstanding the benefits, integrated solutions encounter a lot of barriers, of which the most important are:
the citizens-individualized profiles (e.g. needs and customs),
the local existing average climate conditions (e.g. sunny days or not ) for each city,
any energy or mobility related technical barriers (e.g. grid stress due to energy peaks in offer and demand),
the local citizens wealth status and their intention to invest and pay for services,
the local industrial and city key stakeholders willingness to invest on new technologies and queries if the new proposed technologies will make profit for them and/or their citizens respectively,
regulatory or law city-specific barriers, and
the lack of interest by the society in being part of these innovative solutions.
For that reason, any solutions proposed can be deployed in real-life and economy terms, only if the underlying multidisciplinary expertise of cities, citizens, industrial partners, city decision makers and knowledge centres get extensively integrated as well.
The diversity in stakeholders and the crucial role of citizens as enablers require co-creation of attractive and inclusive services that support people in their own motivations to engage, express ownership, and change behaviour.
The big picture of IRIS
The below figure of IRIS illustrates the integration of the various elements (both very near-to-market and innovative), composing all IRIS solutions, as foreseen to be demonstrated and further replicated among the participating cities and beyond them. Energy elements (e.g. DC smart lamping, waste heat generation, near zero and positive energy buildings) along with storage solutions (deep boreholes, PCM, 2nd life batteries) for increasing grid flexibility and promotion of RES, integrated with mobility aspects (e.g. solar powered V2G) in a district level will in the very near future allow the EU citizens to be autarchies, without experiencing any grid stress problems. Through the supervision of solutions by the developed open-access City Innovation Platform citizens will be healthier and bi-directionally engaged with their cities. The open-access dashboard of CIP, with the use of many types of low cost sensors (e.g. temperature, traffic) connected in both mature (LoRa) and very innovative (5G) networks, is the key-managing system, which receives, sorts and evaluates incoming information, taking the final decisions.