THE LIGHTHOUSE CITY OF GOTHENBURG

General Information 
Gothenburg is a port city with a strategic location between Oslo and Copenhagen. It has a population of around 533 000 and is Sweden´s second largest city. 70 % of Scandinavia´s total industrial capacity is located within a 500-km radius of the Gothenburg region and 30% of Swedish foreign trade passes through the Port of Gothenburg, which is the largest in Scandinavia.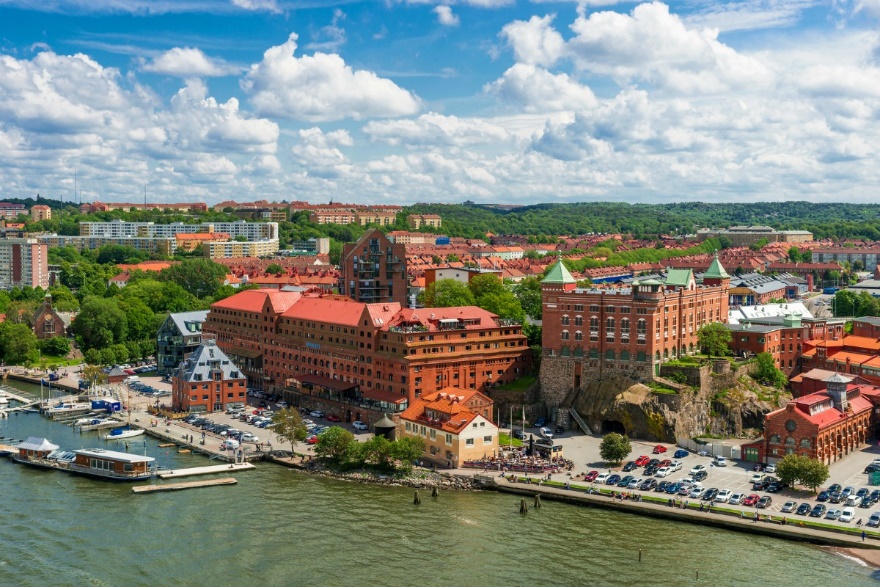 Sustainability and RES
The City of Gothenburg will grow by another 150 000 inhabitants and aims at being one of the most progressive cities in the world when it comes to addressing climate changes and create opportunities for the residents of Gothenburg to reduce their carbon footprint. To meet these challenges several initiatives have been taken and Gothenburg was first in the world to release Green Bonds in 2013, to fund sustainability initiatives and projects Ambitious innovative strategies and efforts have been taken to reduce residents' consumption-based greenhouse gas emissions concerning climate impact; Energy Efficiency Strategy (part of the SEAP),  was adopted by the City Council will remain in force through to 2020, and The Climate Programme expands on the content of the Energy Efficiency Strategy and has an extended timeframe. Gothenburg has signed the EU Covenant of Mayors and has committed to go beyond the objectives of EU energy policy. Goteborg´s SEAP was successfully approved in 2012 and also includes the consumption perspective and Gothenburg is recognised as a smart energy system frontrunner. Gothenburg have also one of the least carbon intensive electric grids (amongst the lowest 5% globally). The city furthermore has increased engagement and ambitions by having the fortune to lead the largest energy innovation project CELSIUS launched by DG Energy, supporting more than 50 cities in their energy transition.
E-mobility
In addition, Gothenburg is a signatory city to the Green Digital charter, and therefore promotes progress in tackling climate change through the innovative use of digital technologies in cities. The purpose of Gothenburg´s program for e-community is to set the overall objective of development. Gothenburg has as well a highly fertile business climate for ITS-development for excellent development of mobility and traffic solutions.
Cooperation and Innovation 
Public dialogues, co-creation and open innovation processes has brought several projects in Gothenburg to successful achievements of being a city open to the world and it´s citizen. Various innovative energy and mobility solutions have been or are demonstrated in Gothenburg. ElectriCity is a collaborative, cross-functional partnership in which cities, regions, businesses and academic institutions develop working methods for research and demonstration projects and produce new scalable business models for sustainable transport in cities. The most visible part of ElectriCity is bus route 55, where electric buses began operating in June 2015. The project SMARTSET, shows how freight transport in European cities and regions can be made more energy-efficient and sustainable, by a better use of freight terminals. In pre-pilot area Lindholmen low-speed EVs in combination with specially designed trailers collect sorted waste fractions and distribute the goods to various recipients.
The demonstration district 
With IRIS we want to create a neighbourhood and a Campus district in world-class, something for all citizen to be proud of and to learn from. The Lighthouse district Johanneberg, which is situated in the south city centre of Gothenburg is mainly a Campus area and as well a residential area with some 8 000 inhabitants. It is strongly characterized by students due to the close location to Chalmers University of Technology. The campus area consists of 15 000 end-users.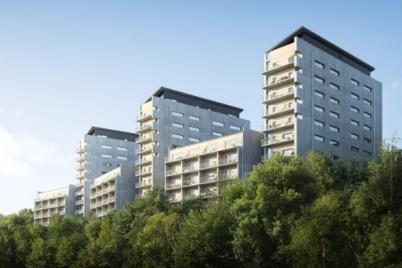 At the campus area there are today 55 buildings of various age. Integrated solutions will be demonstrated, in the housing company Riksbyggen´s innovative development of a residential neighbourhood (Housing association Viva), in 132 apartments in six buildings with planned occupation in 2018. Citizen involvement from planning stage are implemented in the process. The unique aspect of Viva is the courageous implementation of the full-scale housing solutions of the future when it comes to social, economic and environmental sustainability. Solutions that have never been tested in Swedish housing projects before will be implemented. The construction frames will be built from a new type of environmentally friendly concrete. Recycled bus batteries will serve as storage for electricity from photovoltaic panels on the roofs. No private places will be available for the tenants, instead an e-car pool together with e-bikes and e-cargo bikes will be integrated with the housing concept. Affordable living for young people will be realized with small and cheap apartments. Business models will be taken further according to the innovative residential housing concept aiming to reduce costs for the tenants. Swedish housing company HSB has erected a Living Lab together with Chalmers University of Technology and Johanneberg Science Park with 29 apartments, where mainly students and researchers live in a constantly monitored testing environment.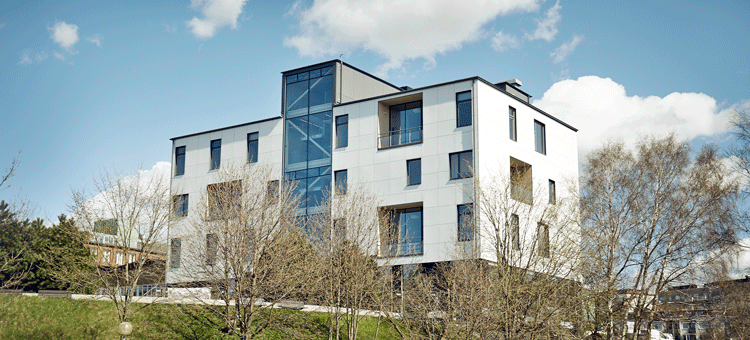 Smart e-mobility solutions and charging will be developed for the housing tenants integrated and connected within the district and the city itself.
The taxi-pod Bzzt have their head office and charging stations at the campus area, and serve Gothenburg citizens with nine (9) miniature, battery-powered taxis to help combat heavy traffic and air pollution, powered by green electricity. In 2016 Bzzt as the first taxi service, won a national prize for being environmentally friendly. On Campus area there are also two e-car pools, one e-bike pool and e-goods vehicles.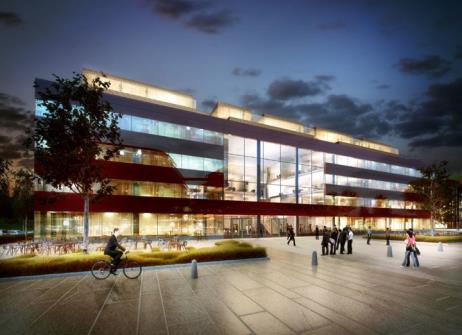 The Gothenburg Lighthouse district challenges 
The Gothenburg lighthouse demonstration will address the following challenges:
The first challenge lies in developing management and control systems that can deal with the combination of small scale (PV, wind, etc.) RES production and large scale supply such as from the external grid or district heating and cooling.
Another challenge for the district is to integrate and expand management and test different types of storage of heating and cooling.
Low or zero parking quota as a challenge will pave the way for different shared e-mobility solutions, development of electricity buses, EVs, smart charging infrastructure and car pools.
City platform and services need to be developed according to challenges within the district for increased availability for citizens and developers of services. Integration of energy efficiency measures, renewables, storage for grid flexibility and sustainable mobility, integrated urban planning methods and data sharing tools are essential.
A final challenge will be to reinforce citizens for engagement and integrate them in urban planning processes towards the expansion beyond the district and to the whole city.
Gothenburg Lighthouse approach: how to meet the district challenges 
The aim is to create solutions that enable a positive energy balance in districts and create an attractive, social inclusive campus and neighborhood. We will demonstrate integrating storage capacity and responsible management at district scale as well as create mobility services for commuters, students and tenants due to the low availability of parking space. This approach reduces losses in the system and greatly increases the efficiency of the overall district heating system. The local production of cooling, heating and electricity, together with local energy storages can be integrated in the city energy system to optimize the use of resources and minimize primary energy needed.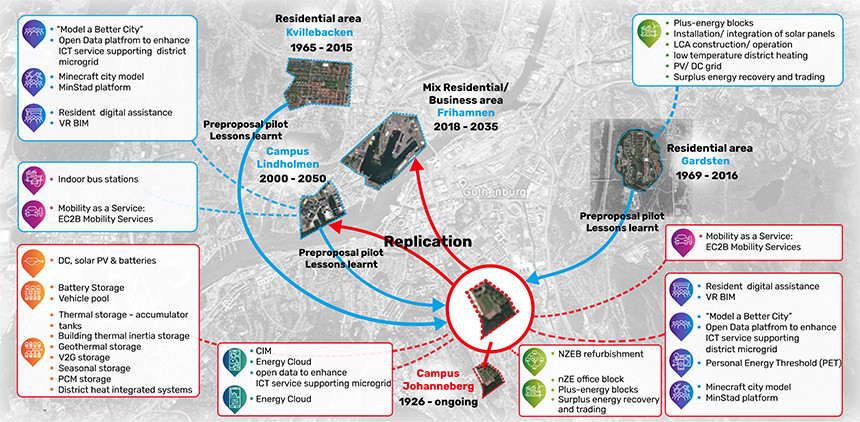 Contact Information :
Katarina Nordström, Johanneberg Science Park,
katarina.nordstrom@johannebergsciencepark.com, +46 709 35 38 60