Métropole Nice Côte d'Azur, France
THE LIGHTHOUSE CITY OF NICE COTE D'AZUR 

General Information 
The Métropole Nice Côte d'Azur (NCA) is located in the Southeast of France close to the Italian border. The intercommunal structure gathering the city of Nice and 48 suburbs/communes/cities was established on 1st December 31, 2011. Located at the heart of the French Riviera (Cote d'Azur), including an international airport, Nice is the 5th largest municipality in France. It is the capital city of the metropolitan area where 540 000 inhabitants range over a 80% mountainous territory (South Alps).
Sustainability and RES 
Long known as the "sleeping beauty ", Nice changed within a few years its former image to the one of a world smart city such as London, Barcelona, Singapore or New York (2015 analyst report from Juniper Research, USA). Turning Nice into the "green city of the Mediterranean region" is the city authority and teams new ambition. In order to consolidate these strategic objectives, the "French Riviera" intends to be France's benchmark region in terms of sustainable development. NCA is thus a member of several networks in the field of EE and RES, such as Eurocities, Green Digital Charter and the Global Covenant of Mayors.
NCA also set up partnerships with the world's largest companies (IBM, Cisco, Enedis, EDFetc.) and gathers local stakeholders, SMEs and startups, university research labs, city representatives around a common dynamics to drive ambitious experiments about connected street sensors and smart grid experiments on its territory, used as a « Living Lab ». Renewable production should increase thanks to by PV production (14 GWh today) and hydraulic production reinforce in the northern alpine area (750 GWh today).
E-mobility 
Mobility have been revisited and the number of EV –charging station grow up to 340 whether electric vehicles reach the number of 710 units as of today. The year 2020 challenges are the deployment of 1000 charging stations and a mere 2000 EV.
ICT and Data Management
This major mutation is leveraging digital technologies, smartgrids and all fields of innovation and implies the development of new activities, sources of economic growth and job creation; a better operating efficiency for city departments with the delivery of high quality services to citizens by improving their living environment and by bringing a dedicated answer to their individual needs. Indeed, citizen involvement from early specification to design and daily management of new solutions and services is a necessary condition to reach a broad level of acceptance of innovation which ought to be, above all, societal.
Cooperation and Innovation
NCA has developed within its Sustainable Energy Action Plan a mid-point 2020 energy efficiency target in view of supporting the long term decarbonization goal of the European economy by 2050 (viz. reducing its energy needs while implementing local renewable production to lower the CO2 content of its energy consumption). At national policies level, since 2014, the French Metropolis were endowed with all fields of competences in energy production, distribution and local management (electricity, gas, district heating and cooling). Furthermore, the recent Law on Energy Transition (LTE – Loi sur la Transition Energetique) approved on 7 August 2015 in France allows local communities to create experimental local electric flexibility service. NCA and its partners will implement this new service to foster local energy efficiency and new business models to optimize the use of local renewable electricity (consumption, deletion, storage, balancing, e.t.c), as a basis of a new produce-consume-pay concept to be introduced in the energy market in a short term. In matter of smart grid and citizen involvement, several strategies have been tested through the pre-pilot initiatives. A first level of mobilization was to characterize the level of acceptance of each flexibility experimentations and sources (REFLEXE project). A second level was to experiment and to demonstrate the flexibility efficiency with a special focus on demand/response, load shedding and islanding as well. NICEGRID worked on "complete removal" of customers from the network, while CITY OPT experimented less restrictive actions (e.g. "decreasing" instead of "cutting-off") and therefore allowed more frequent solicitations of customers. In addition, user involvement inside a community, experiment "soft energy coaching". This differentiation point of NICE GRID approach made CITY OPT a very complementary project.
The demonstration district 
Low Eco Valley district is a densely populated district characterized by mainly social housing at its bottom area with a majority of low-income and multicultural households and a larger living district with a large panel of individual houses and small building all along a well exposed hilly area. The low Eco Valley area runs a real energy social network scenario based on the consciousness energy. This operation was focused on load shedding. Recruited citizens received Demand-response solicitations. Low Eco Valley district (650ha) is a multi-cultural densely populated district characterized mainly by social housing in its south area with a majority of low-incomes and multicultural households and at his north a larger living district with mainly individual houses and small buildings all along a well exposed hilly area.
Nice Eco Valley district is a continuum of 3 homogeneous areas, i.e. Grand Arenas: A business international centre built in 1980s entering in execution phases of urban renewal project including a multimodal mobility centre (airport, train station, tramway, buses, electric mobility). At south, Grand Arenas is bordered by Mediterranean Sea and Nice city Airport. At north, Les Moulins area delimits the sub-district. In an increasing energy consumption perspective, the district needs to produce renewable energy for heating and cooling new office and residential buildings.
Nice Meridia: Meridia is spreading at the north of Les Moulins. The area is still under development and will be a mixed-use district, an urban concept between a technopolis and a residential district. Cote d'Azur University (UCA), Mediterranean Institute of Environment and Sustainable Development (IMREDD), European center of enterprises and innovation (CEEI), IBM and EDF DNO research centres are the first settings of this energy positive territory. Nonetheless, the property program ambitions are to build about 350 000 m² including 2 500 dwellings and to create 5000 jobs on a first area of 24 hectares. All these delivery and running on building will be smart building smart grid ready with electricity storage system, highly efficient insulation, and geothermal network connection to reach positive energy (BEPOS) level.
Les Moulins is a densely populated social housing area characterized by mainly at his bottom area with a majority of low-incomes and multicultural households. This sub-district is achieving its urban renewal project and will optimize and refurbish its energy supply system, a combination of gas heating network and electric heterogeneous uses and practices. Moreover, this district decided to migrate towards fine energy management by individual consumption monitoring and regulation to improve refurbishing efficiency. Les Moulins is the central area delimited at south by Grand Arenas and at north by Meridia.
Sport Valley District is under a large urban renewable focusing on sport activities (training rugby and football playground, Olympic swimming pool, Nice stadium,) sport learning (sport university) cultural activities (Nikia and Nice stadium concert hall), commercial activities (Nice One commercial gallery, IKEA showroom) and housing. It is the western Nice "green lung" spread in the Var floodplain. This district needs a range of specific energy management tools because of current real needs/situations energy peaks detected on the distribution electricity network.area.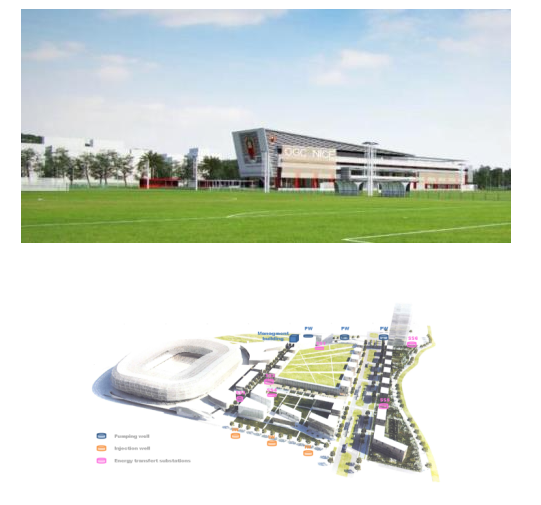 TheMétropole Nice Cote d'Azur Lighthouse district challenges 
The NCA lighthouse demonstration will address the following challenges:
To become energy neutral districts there is a clear need for integration of decentralized renewable energy systems in the district, and convergence between electricity production, cooling and heating system.
For high penetration of renewable electricity, increasing the flexibility of the electricity grid is essential. Therefore demand response management as well as integrating storage capacity at district scale are necessary solutions
To make a success of a massive transfer from thermal mobility towards electric mobility, thanks to a widened offer of EV, while insuring an optimal operating of local electric network thanks to a smart management of EV charging stations.
To fuel the development of innovative applications and services in the fields of sustainable mobility and energy, a city-owned digital platform will collect and mutualize all mobility, energy, environmental data produced from the various districts to offer a true city data market place to city partners. Thanks to the use of open and standard programming interfaces (APIs), the City Innovation platform shall interoperate with platforms from other cities, universities and private companies supporting the same programming interface standards.
To engage citizens as informed user of new urban services by implementing the methods and tools to assist them in a proactive change of their behavior in terms of sustainable mobility and energy efficiency.
TheMétropole Nice Cote d'Azur Lighthouse approach: how to meet the district challenges 
The goal of this project is to meet district challenges and to drive Eco Valley district into a Near Zero Energy district that is livable, safe and socially inclusive, by integrating renewable and smart energy, electric mobility solutions, supported by meaningful information services thanks to open ICT. This calls for demonstrating extensive and innovative citizen engagement methods, resulting in citizens who understand, trust and use the integrated energy and mobility solutions offered in their homes and district.
In order to reach these goals, solutions developed in small scale pre-proposal pilots in a. o. the Low Eco Valley (Saint Augustin for Reflexe and City opt) and Carros district (Nice Grid) area will be integrated and jointly demonstrated in the demo Eco Valley district. Nice objectives to replicate the demonstrated integrated solutions in Sport Valley and support replication at regional, national and international levels. For that, the Nice demo upgrade business model by modeling bankability and economical risks and give confidence for large scale replication investment.
Côte d'Azur Habitat (CAH) will invest heavily in Les Moulins area in outside thermal insulation of 3 buildings (133 apartments) the IRIS project period, regenerating them from 160 kWh/m²/year to 60 kWh/m²/year . In 2010, 4 similar buildings (424 apartments) have already been refurbished (insulating the building envelope,). HIn Grand Arenas, EDF will simultaneously strongly invest in heating and cooling network. Calories should be collected from sewage, geothermal and thalasso thermal sources.
In Meridia area, NCA should subcontract with a private company to build a geothermal low temperature closed heating and cooling network and more specifically sustain its subcontracting partner in local energy monitoring and optimisation (local energy management).
NEXITY in Palazzo Meridia program on one side and IMREDD in university program will invest in positive energy building with connection to the network. This new emblematic high energy efficiency program, the french highest office building in cross laminated timber structure (close to 900 t of wood) with 500m² PV production for Nexity and 842 m² PV production for IMREDD objective to reach very high performance in energy management, by including storage system to test different model in PV production valuation. The IRIS project is the perfect opportunity to realise this innovative target, by demonstrating integrated smart energy solutions at building level and local energy management platform based on local demand/response monitoring on at multi energy integrated system including smart storage system.
IRIS project will promote sustainable mobility, which includes alternative fuels (electricity) and alternative modes (e.g. walk, bike, public transport), with a view to a decrease of the number of vehicles with internal combustion engines and therefore less CO2 and less pollutants (particles, NOx).
The adoption of open and standard–based IT platform architecture rules and programing interfaces (APIs) will allow the deployment of a City Innovation platform (CIP) which will support interoperability with external databases and data sources and which will offer an easy replication in other cities. IRIS CIP will be the backbone of the development of a City data market place instrumental to the economic development of new urban services. By promoting the adoption of user-centric methods and tools enabling a stronger and direct dialog with the citizens, the IRIS project will embark the citizen in the process of changing himself from a traditional consumer of services to an actor of his city with his involvement in the definition, the design and the operation of new smart and sustainable services.
 Contact Information :
Camille Torrenti, Métropole Nice Côte d'Azur,
Camille.torrenti@nicecotedazur.org, +33 4 97 13 46 38