European smart city stakeholders and representatives gathered in Utrecht on the 1st-2nd of June to understand the hidden factors behind the successful implementation of climate friendly solutions.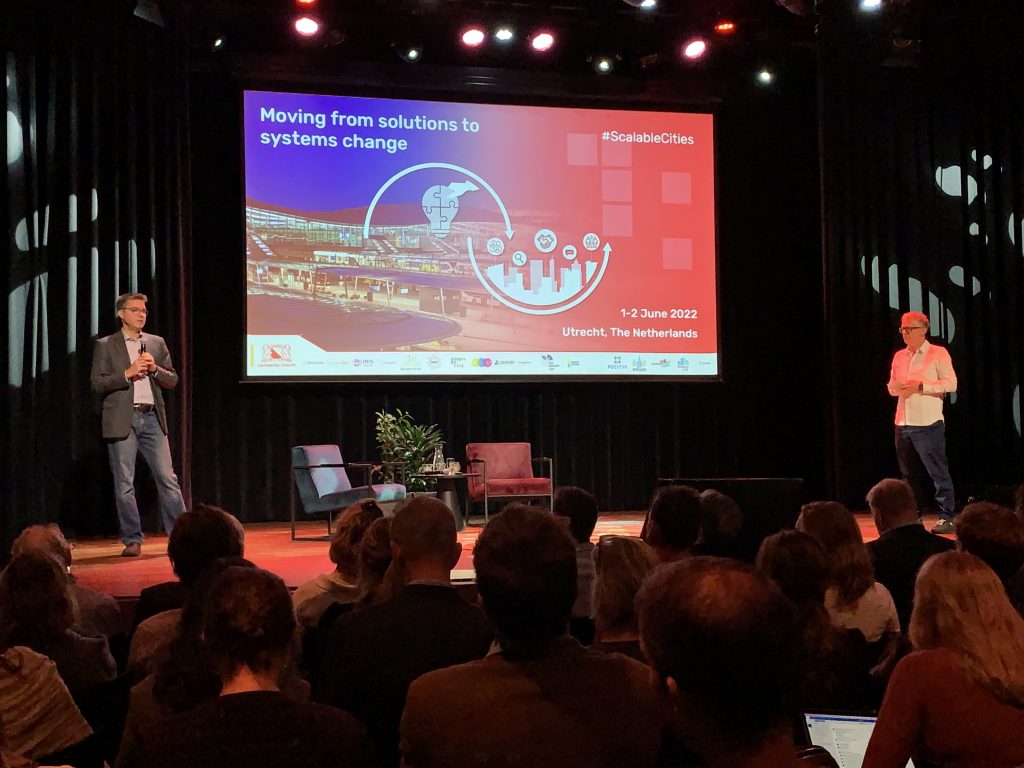 Cities of all sizes need to accelerate their transformation to climate-neutrality in 2050. Since 2014, a pioneering group of 120 cities have been working hard to deploy over 500 solutions in more than 20 countries through the European Smart Cities and Communities Lighthouse programme – referred to collectively as the Scalable Cities Community. But mainstreaming the hard-won, climate friendly, smart city solutions and creating sustainable system change in cities is proving challenging.
As one of the 100 selected cities by the European Commission to achieve the goal of Climate Neutrality by 2030, Utrecht is a great example of a trendsetting fast-growing city with green ambitions. And therefore, an ideal venue to host the "Moving from Solutions to System Change event" which brought over 140 representatives of the Scalable Cities community together to ask the following question: to enable a more systemic approach to smart city innovation, is it time to replicate success factors and enabling conditions, rather than solutions?
To answer this question, the conference invited participants to play a game of "Smart City Sherlock" in which six experts in six areas of smart city innovation (or "transitions tracks") were invited to present and share their innovation story. Using examples from around the Netherlands and beyond, the six keynote speakers, rather than pitching their technological innovation in the usual way as they might do to a potential investor, were instead invited to trace back the steps that led to these innovations, highlighting whenever possible the less tangible and more hap-hazard elements that helped to bring about their innovative solutions.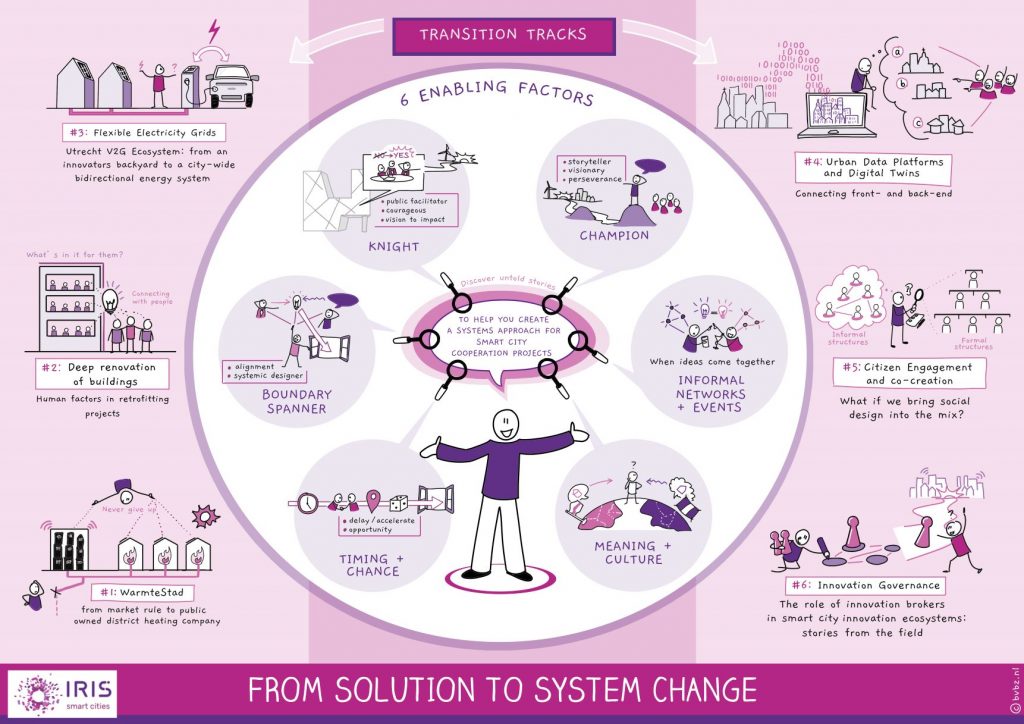 In relation to positive energy districts, Theo Venema brought us along a fascinating story of Warmtestad and the development of public heating network of Groningen, while Daniel Grisaleña Rodriguez shared a great story of SmartEnCity and the citizen approach to retrofitting in the town of Victoris-Gasteiz. Robin Berg shared his story of the WeDriveSolar project with his visionary idea to store solar electricity electric cars and share it in a vehicle-to-gird network in the city of Utrecht whereas Lidia Stulen explained how the Digital Twin of Utrecht has been developed and the main organizational and governance challenges. Then Raginhild Scheifes shared her story of co-creations and social design through the example of greening of the roofs at the business park and environment in Bunnik; and finally, Carolien van Hemel highlighted the role of innovation brokers through her experience in working on the IRIS Smart Cities project.
After the keynotes delivered their presentations, it was then up to the audience, through 6 breakout sessions, to analyse each story under a specific set of "lenses" that aimed to highlight process elements such as informal networks and events, meaning and culture, timing and chance; and the role of specific kinds of individuals in the innovation narrative such as the so called "champions", "knights" or "boundary spanners". What each story highlighted in different ways was how different stakeholders interact and collaborate not only in formal structures, but often through informal structures. Meaning that learning to recognize, understand and work with informal connections and serendipitous events could be a powerful tool in creating lasting impact. To find out who a "boundary spanner" is and some initial outcomes of the experimental "Smart City Sherlock" exercise you can download the summary presentation
Day 2 of the event offered participants to not only talk the talk but also walk the walk and see smart city solutions in action through different site visits in Utrecht. They went on guided bike rides to visit the first high-rise retrofitted Positive Energy Building in Henriëttedreef and learned about the city´s bidirectional charging ecosystem. A guided walk in the neighborhood also passed by the largest multi-modal hub of the Netherlands underground bicycle parking and provided insights on design approaches that can foster inclusive energy transition schemes co-created with citizens.