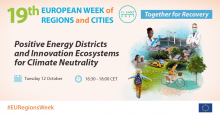 Starting a mission to become climate neutral? Collect inspirational insights, do's – and don'ts – at an EU Regions 'participatory lab' dedicated to positive energy districts and innovation ecosystems this 12 October at 16:30 CET (registration required).
It taps into expertise and experience of smart city experts accelerating role out in Italy, Ukraine, Finland, The Netherlands and more making smart and sustainable a reality. With moderation from Eurocities and input from the EU Smart Cities Marketplace replication working group which represents over 120 metropolitan areas in Europe.
The session will look at the connections, competences and investment capital we need to mobilise to make climate neutral happen. If you are starting your mission then this is the session to capture several good ideas of how!
Hear about a transformative stakeholder dialogue in Italy from Cristina Pellegrini, new catalyst organisations in Ukraine from Maksym Terletsky, accelerating skillsets with Natalia Majewska in Poland or punching above your weight to attract investment with Mika Hakosalo in Finland.
Brooke Flanagan of Eurocities will be teasing out the details and giving you lots of opportunities to interact and ask questions as we explore the topic further.
Keep discovering more @irissmartcities
Session developed in partnership with sister projects: MySmartLife, Ruggedised, Sparcs, the EU Smart City Marketplace Replication Task Group and Eurocities
10 Sep 2021