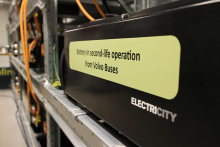 In Riksbyggen's Housing Association (Brf) Viva in Gothenburg a unique system is being tested, where energy from solar cells on the rooftops of the buildings is stored in used electric bus batteries from Line 55. The energy storage creates flexibility in energy consumption and the power peaks of the buildings are cut. The energy storage also helps to streamline the surrounding power grid in the city. The project is a cooperation between Riksbyggen, Volvo, Göteborg Energi and Johanneberg Science Park.
"To reuse electric bus batteries in Riksbyggen's Brf Viva to store solar power is quite ingenious. In Brf Viva, where residents have recently started moving in, many new solutions in the field of sustainability are tested for the first time. The bus battery project shows that different industries such as Energy, Property and Automotive can find new smart solutions together and complement each other in a new way," says Anders Johansson, Deputy Marketing Area Manager, Riksbyggen.
"We know that electric bus batteries show good performance for other applications, such as energy storage after being used in the bus. Exactly how good is what we are going to investigate now. By using the batteries as energy storage, they get a prolonged life, which contributes to a better utilization of resources and less environmental impact. Within Volvo we look at different possibilities of reusing bus batteries as energy storages and Viva is an example of this," says Ylva Olofsson, Project Coordinator, Volvo.
"By collecting data from the energy system in Brf Viva, we will be able to provide smart management and optimization of energy consumption. This will take into account the housing association's needs, but also strive to make the city's energy use more efficient with reduced environmental impact. Together we get better," says Helena Nordström, Project Manager at Göteborg Energi.
"Smart collaborations between different sectors need to happen more often in order to achieve a sustainable society. That's why it is very encouraging that Riksbyggen has an ambition that reaches beyond its own organization. Positive Footprint Housing, of which the energy storage is part, is a research and innovation platform that opens up for different players, such as Volvo and Göteborg Energi, to participate in joint innovation projects," says Peter Selberg, Research Strategist at Johanneberg Science Park.
Facts about energy storage in Riksbyggen's Brf Viva
The energy storage consists of 14 used lithium-ion batteries from bus line 55
The energy stored in the batteries comes from solar cells on the rooftops of the properties. The batteries can also be charged with renewable electricity from the surrounding power grid when the price is low
The energy storage is used to cut the power peaks of the properties. The locally produced solar power can be used, stored or sold, depending on what is most advantageous at the moment
The energy storage (200 kWh) means that only four percent of the self-produced solar energy need to be sold, compared to 20 percent without energy storage
A full energy storage is enough to charge approximately 4.5 electric cars (40 kWh each), 30 electric bikes (0.5 kWh each) and run five washing machines (1 kWh each)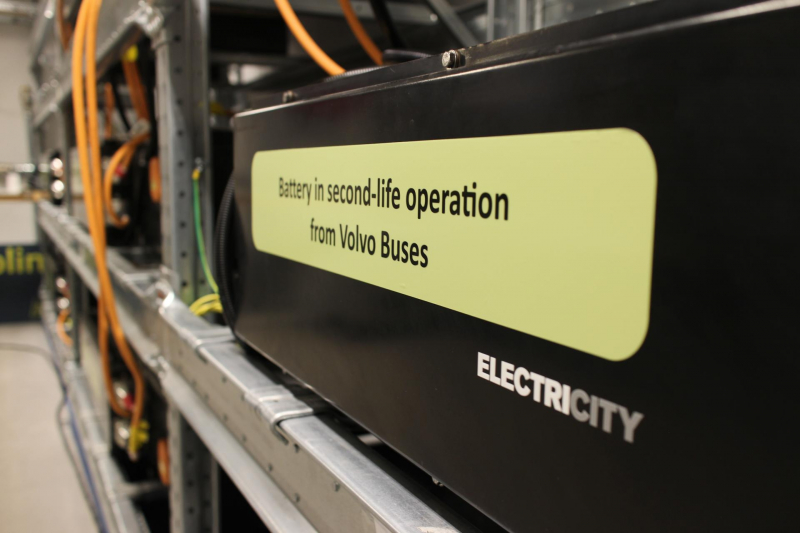 About Riksbyggen's Brf Viva
Brf Viva consists of 132 apartments. In mid-November the occupation of the first 47 apartments started. The aim of Brf Viva is to create Sweden's most innovative and sustainable housing project based on research within Positive Footprint Housing (PFH). A plant of solar cells, energy storage, heat recovery from ventilation (FTX), electric car and bike pools, youth studio apartments, distance workplaces and resource-efficient construction in climate-smart concrete show the way to the sustainable housing and living of the future.
PFH is multidisciplinary research for a holistic approach to innovative sustainable residential and urban development. The project will result in increased environmental, social and economic sustainability. Acquired insights and lessons learned will get realized in PFH's first practical implementation; Brf Viva. The project was initiated by Riksbyggen in collaboration with, among others, Johanneberg Science Park, Chalmers, University of Gothenburg, Göteborg Energi, the City of Gothenburg and RISE.
Certain parts, such as the energy storage in used bus batteries, are supported directly by IRIS Smart Cities, a five-year Lighthouse project funded by the EU's HORIZON 2020.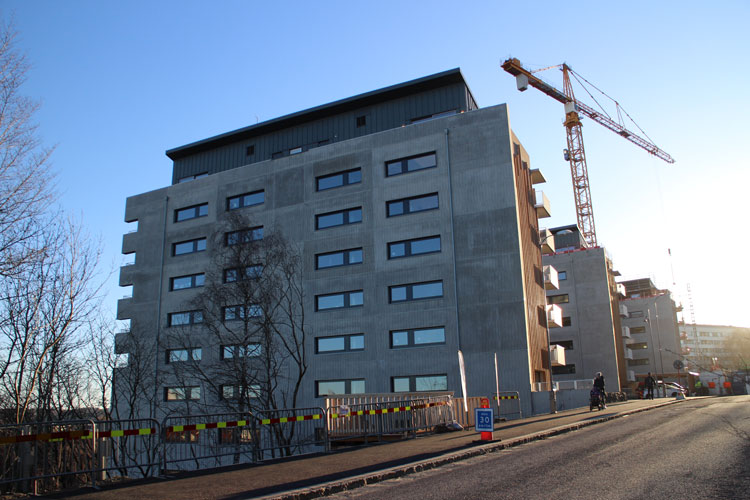 07 Dec 2018