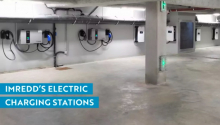 Nearly 20 intelligent electric vehicle charging terminals set to integrate into the building's energy system management at IRIS demo site IMREDD – Université Côte d'Azur.
Since September 2020, IMREDD has been deploying its charging infrastructure for electric vehicles. This installation is a further key step in IMREDD's resolute move towards an energy transition based on low-carbon mobility.
The park is made up of a cluster of 10 Schneider EVLINK AC 8x7kW and 2x22kW charging stations, 6 Legrand GREEN UP METAL AC 7kW charging stations and finally 2 Cahors Wallbox DC 25kW charging stations.
These terminals are currently available free of charge to IMREDD employees, and soon to its partners. They can be used easily via a mobile application.
The charging of the vehicles is done thanks to the photovoltaic installation of the building, in association with the standard distribution network.
The building is currently equipped with 18 charging stations. The need for a smart charging solution was obvious in order not to exceed the power limit of the site.
In the near future, the intelligent management of electric vehicle charging will be integrated into the building's energy system management. This next step is one of the key actions of the IMREDD's building in the scope of the IRIS Smart Cities Project.
14 Jul 2021