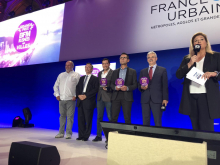 France's premier business media, BFM, recognised the constantly evolving and innovative urban landscapes at an awards ceremony in Paris this September.
Walking away with a major award was IRIS Smart Cities lighthouse, Nice. The city seduced the jury with its extensive environmental urban monitoring system.
This experimental network of nearly 3,000 micro sensors is deployed over 160 hectares making it possible to collect environmental data (air quality, noise, water and energy, waste management, etc.) and processes them to test some twenty new services.
Aimed at residents as well as businesses and communities, this gold mine of data should allow the optimisation of urban public services, improvement of living standards, health and the environment.
This is the first demonstrator of urban monitoring of this size in France and has already gained significant international interest.
For Christian Estrosi, Mayor of Nice, President of Métropole Nice Côte d'Azur, and Deputy President of the South Provence-Alpes-Cote d'Azur Region:
"A global smart city, Nice Côte d'Azur is fully committed to making life easier for its inhabitants, improving quality of the air they breathe and stimulating job creation. We have here an exemplary and innovative model of living to replicate elsewhere. Our investment in a smarter future for the region is paying off."
Original article in French at Nice-Matin
05 Oct 2018