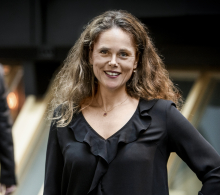 "Start by establishing goals, a strategy and a lead," says co-author of new IRIS report.
By Gloria Pallares
Cutting-edge technologies can power the transition towards cities that deliver energy, mobility and ICT services in cleaner, more efficient ways. But turning ideas into practical solutions requires the capacity to handle innovation, both to deploy new solutions at scale and to replicate what is working in other urban centers.
A new IRIS Smart Cities report looks at strengths and weaknesses in innovation management across several cities, and lays out ways to build on successes for smarter urban environments.
In a conversation with co-author and expert with the Impact Management Consulting Group (IMCG) Ulrika Wahlström, we discussed keys to increasing innovation capacity and examples of cities that are showing the way. The conversation has been edited for length and clarity.
What does the urban innovation management landscape look like in Europe?
The situation varies widely across locations. Some cities have an excellent innovation strategy, but have not yet managed to fully implement it, often times, due to a lack of widespread awareness and understanding of the strategy among stakeholders.
Other cities do not yet have a proper strategy, but are good at getting things done. Either because there are a few enthusiasts who are championing new mobility, energy and ITC solutions, or because there is a department focusing on issues such as digital transformation. What matters is that cities can learn from each other's experience to foster innovation.
What does it take to hardwire innovation into city operations?
The first step is willingness from both the city and the technology holder, or solution provider, end. Technology holders could contribute by accurately describing their value proposition, as well as the value chain requirements and the business models that are necessary to deploy their product. As part of the IRIS Smart Cities initiative, they will share recommendations on what they believe is important for cities to implement their solutions.
And what are the keys to improving innovation management from a city perspective?
Cities must set goals for themselves in terms of energy, mobility and ICT. The next step is creating a strategy and establishing who is going to lead the work. At the moment, it is not always easy to identify who is in charge of innovation management in a given city. Also, it is important to foster a culture of innovation, where people dare to explore new solutions, and create an enabling environment through adequate regulations, investments and governance arrangements.
What are some specific recommendations for cities that are demonstrating innovations?
Planning for the scale-up of new solutions across districts. If they show they believe in the innovation themselves, they will be in a better position to inspire other urban centres to adopt it. Cities become smarter district by district, so it is essential to divulge innovative solutions among all citizens and across all districts.
Which examples of scale-up from IRIS Smart Cities partners would you highlight?
For instance, Utrecht (The Netherlands) rolled out a bidirectional charging system for electrical cars in a certain district, but has now started implementing it at city level. Another example is Gothenburg (Sweden): they installed a second life battery energy storage system in a building, and another real-state company in the city has adopted the solution. These cases show that accelerating the transition towards smarter urban environments is possible, becoming a source of inspiration for cities elsewhere.
02 Mar 2021