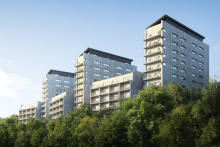 Brf Viva in Gothenburg, built by IRIS partner Riksbyggen, is one of the nominees for the prestigious Swedish Light Prize. A competition being organized for the 28th consecutive year.
Brf Viva has been built to be Sweden's most sustainable and innovative housing project – and it seems to be fitting the brief nicely!
Riksbyggens Brf Viva won the Kasper Salin Prize earlier this year and was named "Housing Developer of the Year" at the Guldhemmet gala. In 2019, Brf Viva was named Environmental Building of the Year and "Best Building of the Year in Gothenburg". Riksbyggen has, for two years on the rake, been named the most sustainable company in the real estate industry, according to Sustainable Brand Index B2B 2019.
Some examples of innovations in Brf Viva:
Brf Viva is preliminary certified in accordance with Environmental Building Gold. This means, for example, an energy use of only 65 per cent of the existing building regulations and that high demands on indoor environment and material selection have been achieved.
New, climate-enhanced concrete with 30 percent less CO2 emissions
Youth seats – new tenants for SEK 95,000
Reuse of bus batteries as solar energy storage
Innovative mobility solutions that enable a home without its own car
Ecosystem Service Analysis
Congratulations to the entire team.
05 Jun 2020