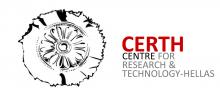 The Information Technologies Institute (ITI) was founded in 1998 as a non-profit organisation under the auspices of the General Secretariat for Research and Technology of the Greek Ministry of Development, with its head office located in Thessaloniki, Greece. Since 10/03/2000 it is a founding member of the Centre for Research and Technology Hellas (CERTH) also supervised by the General Secretariat for Research and Technology (GSRT).
CERTH/ITI is one of the leading Institutions of Greece in the fields of Informatics, Telematics and Telecommunications, with long experience in numerous European and national R&D projects. It is active in a large number of research domains such as Energy Efficiency in Buildings, Security and Surveillance, Image and Signal Processing, Computer & Cognitive Vision, Human Computer Interaction, Virtual and Augmented Reality, Multimedia, Database and Information Systems and Social Media Analysis.
CERTH/ITI has participated in more than 175 research projects funded by the European Commission (FP5-FP6-FP7 & H2020) and more than 100 research projects funded by Greek National Research Programmes and Consulting Subcontracts with the Private Sector (Industry). The last three years, the Information Technologies Institute has attracted an income of more than 25.5 M€ from National and European competitive R&D projects. For the last 10 years, the publication record of ITI includes more than 270 scientific publications in international journals, more than 600 publications in conferences and 100 books and book chapters. These works have been cited in more than 6.500 times.
On March 30, 2012 Chemical Process Engineering Research Institute (CPERI) merged with Institute for Solid Fuels Technology and Applications (ISFTA) to establish the Chemical Process & Energy Resources Institute (CPERI). The new established Research Institute is a member of the Centre for Research and Technology-Hellas (CERTH). CPERI contributes to the increased competitiveness of the Greek and European industry by providing unique and innovative solutions to research problems of technological and/or commercial interest. CPERI is classified among the Institutes of Excellence in Greece and employs a scientific staff of about 250 people, while its inflows is around to EUR 10 million €/year. In this light, the total budget of bioenergy and energy recovery projects by the utilisation of clean fuels is until now over 14 million €. Moreover, it holds the 16th position among the European Research Institutes (top 50 REC organisations) having signed grant agreements in FP7 in terms of counts of participations for the period 2007-2013.
Hellenic Institute of Transport (HIT)'s mission is to provide Transport research and to support policy- and decision-making in land, maritime, air and intermodal transport operations, organisation, planning, standardisation, economic analysis, management, mode technology and impact thereof. HIT collaborates with established Transport institutions abroad and represents Greece in relevant scientific fora. HIT's activities include basic and applied research projects, specialized studies, formulations and proposals of standards and model processes within its relevant fields, implementation and maintenance of databases, organisation of advanced professional development programs and trainings for specific user groups and promotion of bilateral and multilateral partnerships with similar research institutes and organisations in Greece and abroad.
CERTH-HIT has a significant experience in modelling and simulating transport systems, both at a conventional level as well as including technological solutions in the models/simulations, such as cooperative systems for passengers. CERTH-HIT has also a strong experience in coordinating tasks, work packages and projects of any kind. Finally, CERTH-HIT has an excellence research background complemented by a long experience on evaluation and impact assessment of new technological solutions based on ITS.
Website